By Sarah Correa
Recently I got off work around the Golden Hour, and wanted to get a run in. I didn't have much time before the sun set and the temperature dropped – so I thought a quick 3-4 miles would be great. I've been interested in checking out the newly opened Sunset Whitney Recreation Area in Rocklin, California and made the short drive over from Lonetree Blvd. There was plenty of parking when I arrived and rains from the week before left the air feeling cool and crisp. I could see there were still puddles around the park, and the ground looked tacky and spongey around the paved walking trail that leads down the center of the narrow valley. A big new wood-covered sign boasts a map of the trail system – 4.6 total miles, tucked between busy roads and densely populated communities. A nice change-up from the usual road run.
On either side of the paved path are single-track firm-packed trails. Some stay low in the shallow valley and others edge up into the small hill on the southern edge of the park. A mountain biker headed towards me on one of them and the smooth buttery trail looked perfect for some relaxing miles. I love a good mixed road-and-trail route and considered my shoe choices. I try to keep at least one "road" shoe and one "trail" shoe in my car – you never know! – but on days when you're doing a bit of both, the question is which should you choose, road or trail?
We get asked this question a lot at the store – "I run on roads and trails, what shoe should I get if I can only get one?" A good place to start is by estimating what your ratio of road/trail miles is each week. The rubber outsole on trail shoes is softer than that on their road cousins – it is designed to grip softer malleable surfaces like dirt, mud, and gravel, rather than cement or asphalt. Frequently wearing your trail shoes on the road will erode the lugs and prematurely dampen the effectiveness of the outsole on trails. Another consideration is the condition of the trails you run and walk on. On non-technical trails, fire-roads, and packed dirt paths (like those around Lake Natoma or Folsom Lake), you may find lugs aren't needed to feel secure when running or walking.
Today there is also a growing market for and development of "hybrid" shoes – shoes with a "road feel" in terms of weight and cushioning, but with lugs on their outsoles for increased confidence on trails. The lugs on these shoes are not as aggressive as those on a traditional trail runner (they are shorter and shaped differently) so they can withstand miles on pavement or concrete. Some examples of great hybrid shoes available now are the On Cloudvista, HOKA Stinson, and Topo Ultraventure. Each offer a unique running and walking experience and are worth a try-on!
For this run through Sunset Whitney Recreation Area – a mix of non-technical (albeit a bit muddy) trails plus paved paths, I chose my HOKA Clifton, a mid cushioned light road shoe. The Hoka Clifton is one of the most popular running and walking shoes on the market today. In terms of step-in comfort, there are few brands that rival HOKA, and the Clifton is a staple in their lineup. Plush and cushioned with better than average arch support, and with a textured outsole that adds a touch of extra grip, the Clifton is a perfect choice for some pavement-with-light-trail-action. Additionally, the balanced cushioning and stable heel of the Clifton make it a great for downhill running, and some of the little hills in the park looked steep!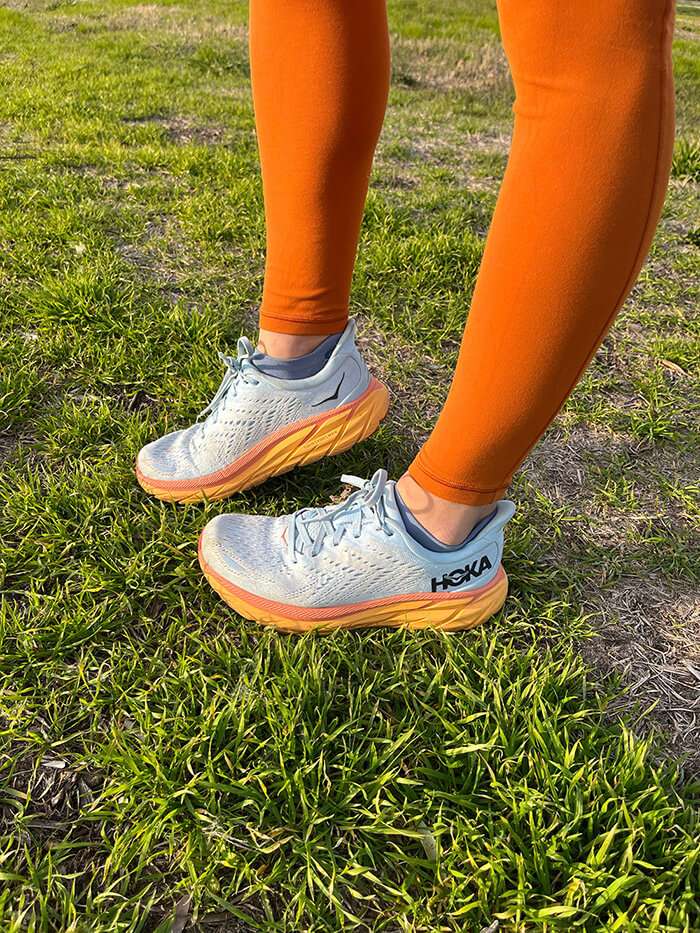 There are three trails in Sunset Whitney – the West Trail, East Trail, and East (ADA) trail. From the parking lot in the Northeast corner off Midas Ave, I headed out on the West Trail, an out-and-back paved trail with dirt single track trails branching off on either side. I began on this paved trail, then quickly moved to the dirt. The Clifton is great on grass and dirt and felt secure in the slightly wet and muddy ground. Eucalyptus trees frame the trails but there are not many of them – overall the space is open and very green. That day the sun was slightly obscured by a late afternoon haze that added a slight chill to the air – perfect running weather.
The length of the park, heading in the western direction, is over a mile. I made my way through the valley, trotting along on the sticky, muddy single track, taking in the green which was everywhere! About halfway along the West Trail the park is cut across by Whitney Blvd, but there is no need to stop at traffic lights or wait to cross the street. Instead, a small round tunnel takes you underneath Whitney Blvd and pops you out on the other side where the paved trail continues, and the single track starts up again as well.
I came to the end of the recreation area at Sunset Blvd. If you decide to turn back at this point and return to the parking lot at the northeast corner of the park, you could complete 2.5-3ish miles, depending on which paths you take. However, I decided to turn my out and back into a loop by connecting with Johnson Springview Park, just a short distance away. The outsole of the Clifton is relatively flat, so I did not catch much mud and dirt in my shoes – another consideration when picking a road shoe for the trails. This helped a lot with the transition back from trail to road. Exiting the park, I ran up Sunset Blvd for about half a mile, made a left through a hilly residential neighborhood, and eventually came to a steep downhill on Paragon Street. At the bottom of the hill is a scenic bridge which marks an entrance to Johnson Springview Park. I was grateful for the secure fit and cushioning of the Clifton on that downhill. I am by no means a smooth downhill runner, and extra cushioning and support are always welcome!
Johnson Springview Park is loaded with single track dirt trails as well as wider, packed dirt paths. There are disc golf courses, barbeques, and picnic tables. Oak groves dot the open spaces of the park and even on a regular weekday afternoon the park was bustling with families, solo runners and walkers, and lots of dogs.
Antelope Creek marks the park's western edge and acts as a northern border between it and the southern edge of Sunset Whitney Recreation Area. The City of Rocklin is still developing this border area between the two parks – there are plans to build a bridge where, currently, there is just a pipe crossing over the creek. I was not aware of this but wanted to complete my loop back to Sunset Whitney, so I attempted the Pipe Crossing (fingers crossed). As far as rustic creek crossings go, this one is relatively tame – the pipe is wide and wasn't wet at that time, but for those with smaller kids or older companions – don't plan on being able to connect the two parks until the bridge is completed.
Fortunately for me, I navigated the Pipe Crossing successfully and stayed dry. From there, it was a short jaunt on the East Trail back in Sunset Whitney, to the parking lot where I began.
In total my little loop was four miles and packed with lots of fun trails and features. If you normally run roads in the Rocklin area, consider changing up your routine and heading over the Sunset Whitney Recreation Area or Johnson Springview Park, or if you're like me, hit both in one afternoon! Tunnels, hills, bridges, and even stream crossings – there are lots of choose-your-own-adventure style options. Running in Rocklin is special in this way. On any walk or run you can choose if you'd like to stay in urban spaces, or play at their edge on trails and in parks that create small oases just for you. Big open spaces like these shine in winter and spring, when the grass is green and temperatures are cool, and if you would like to test out your road shoes on some mixed trail and road surfaces, these parks are ideal places to start!
The Strava map of my run is below. For more great route and gear recommendations, come say hi to us at the Rocklin store, we'd love to see you!