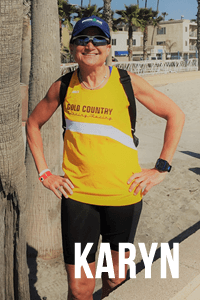 Karyn Hoffman
2022 will be Coach Karyn's seventh Gold Country Marathon Training Program! As a coach, her euphoric moments are getting people across the finish line, helping them to accomplish their goals. Karyn's numerous accomplishments include the following:
RRCA Certified Coach Level I and Level II
50+ marathons, including 22 consecutive at CIM
2022 PB at LA Marathon 3:19
Marathon pace leader at CIM the past 14 years (3:50-3:55 groups)
Urban Cow pace leader, Big Sur pace leader
Three Boston Marathons
Seven 100 Mile Endurance Runs including 5 Western States finishes
2019 Kona IronMan Finisher with over 25+ IM finishes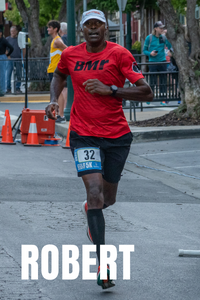 Robert Cathey
Robert has always been active with cycling, weight training and bootcamps but rarely ran. He didn't start running regularly until age 54, that year he ran his first half marathon – the 2018 Gold Country Half Marathon. In 2019, he signed up for the Gold Country CIM training program and completed his first marathon. Robert has completed a number of 5ks, 10ks, half marathons, and marathons. He leads the Sacramento chapter of Black Men Run (BMR), a national organization with the mission of improving health outcomes through running and diversifying running events. As BMR Captain, Robert leads several running meet-ups weekly, throughout the Sacramento region. Robert's passion for running is fueled by connecting people and improving health outcomes. He looks forward to helping others achieve their running goals. Robert is RRCA Level 1 certified running coach.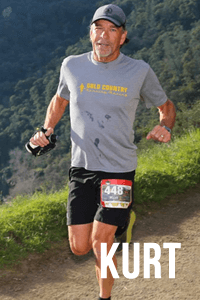 Kurt Jaehn
Kurt started running in high school, competing in track and cross country. He was an avid cyclist for many years and competed in many races including Eppies Great Race and several 24-hour adventure races. Kurt became serious about running again in 2010. He sold his road bike and is now an avid runner! Since then he has completed the California International Marathon 8 times and dozens of other races including 50 miles, 50K's, half marathon's, 10k's, and 5k's. Kurt loves to share his passion for running. He is an RRCA certified runner coach and has helped coach prior training groups for Gold Country Run + Sport.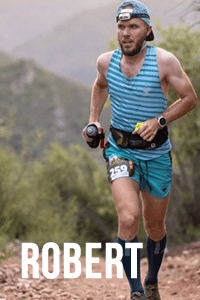 Robert Ressyl-Moyer
Robert's background and passion is focused on coaching and teaching. He graduated 2013 with a graduate degree in Exercise Science from the University of Vienna.
Once an avid soccer player, Robert transitioned into Marathon training after he moved from Austria to Boston. He ran his first marathon in 2015. Following enthusiastic (and relentless) encouragement from new running friends in Sacramento, Robert began his journey into trail ultra-running. Since then he has won several trail races throughout Northern California. A highlight of Robert's running career was representing Austria's national team at the 2018 IAU Trail World Championships in Spain.
Javier Salazar
Javier is a co-founder of a Sacramento-based Latinx/BIPOC run/walk club called Corremos Sacramento, with a mission to create a safe space for individuals of different backgrounds, cultures, and abilities to go outside and move.
His passion for running began in 1996 when he witnessed Michael Johnson sprinting in golden track spikes during the Olympic Games. Johnson's awe-inspiring performance served as a catalyst not only for Javier but for numerous others to take up running. Javier has been running for over 26 years now. However, it wasn't until his beautiful wife and best friend Francis registered for their first half marathon in 2015, and later a marathon in 2023, that he was motivated to push himself to run distances beyond 8 miles, and he's so glad he did. Completing 1 marathon, several half, 10k's and 5k's. Let's get out there and inspire others just like Michael Johnson and Francis have inspired Javier. ¡Vámonos!