By Sarah Correa & Reed Breuer
Whether you've got a hilly road race coming up (Run Rocklin, anyone?) or you're just looking to improve strength and cardiovascular capacity, hills are a vital component to any runner's training. Practicing hills not only develops mental toughness and endurance, but also reduces the risk of injury by improving running economy and form.
One major study, carried out at the Karolinksa Institute in Sweden, measured the effectiveness of regular hill training in marathon athletes. By the end of the 12-week observation period, during which the athletes completed twice-weekly hill workouts, running economy had improved by 3%. Doesn't sound like much, does it? Well, for these athletes a 3% increase in efficiency translated to roughly six minutes off their marathon times – no small measure, when races winners are often determined in seconds rather than minutes.
It's no secret that the benefits of regular hill training are worth the love/hate relationship many of us have with them. "Embrace the suck," the mantra of many endurance athletes and runners, strikes a special chord when you're halfway through, say, a set of 10 x 1min hill repeats at 80-90% max heartrate.
But for us valley dwellers, flatlanders, and sea-level locals around Sacramento, hills can be hard to come by. So, we went out and explored the area, looking for great places to get in those delicious, savory hill miles. Listed below are the ones we think are worth a short drive. After all, what better way is there to start the day? Or at least, what better way to guarantee your day can't get any worse!
Fair Oaks – Bridge Street
Location
Bridge Street in Fair Oaks, which leads to the beautiful pedestrian bridge and adjoining American River Bike Trail, is the nearest option from downtown Sacramento for hill repeats. The incline on Bridge Street is consistent, perfect for playing with effort levels and heart rate. The hill is about a third of a mile in length, so not suited for very long intervals, but great for shorter intense efforts. Additionally, Fair Oaks is a hilly neighborhood in general, and you can choose any offshoot from Bridge Street to get additional and varied grades in.
Bridge Street Pros: Beautiful setting; no noise pollution and no stop lights; other hills in the area to practice on; easy parking around Fair Oaks.
Bridge Street Con: Not a very long hill.
Gold River Neighborhood – Hazel Ave
Location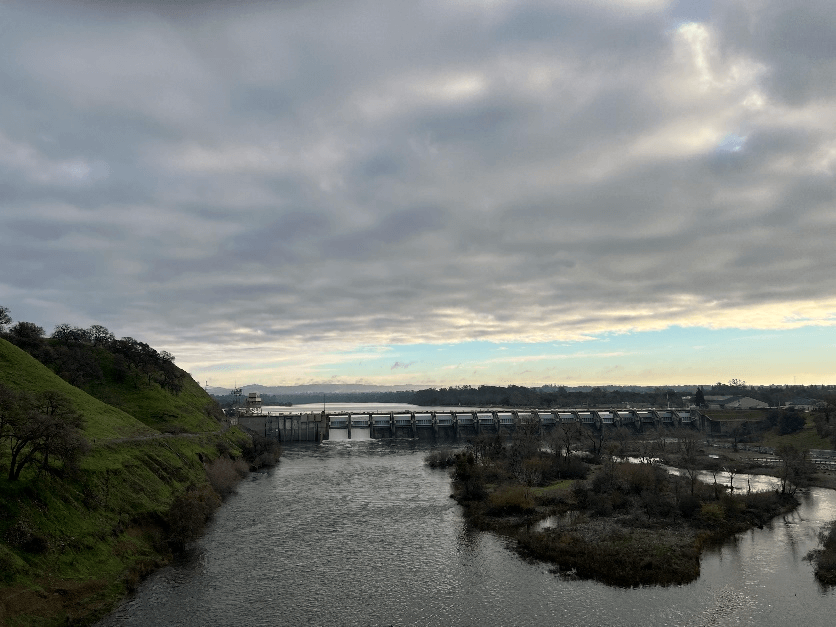 Located directly off highway 50 in the Gold River Neighborhood outside Sacramento, the Hazel Ave hill is ideal for short, sprint intervals (if staying over the bridge) and also accommodates longer hill repeats if you continue past the bridge. If continuing beyond the bridge, the grade of the hill becomes varied and more rolling. Over the bridge itself, the grade is pretty even – not overly steep, but very difficult when you're pushing the pace! The location at Lake Natoma is great if you want to continue your run beyond the hill workout – there are dirt and paved trails around the entire lake. Best of all, there is free parking available at the "park & ride" lot adjacent to the Sac State Aquatic Center. Just exit the freeway and hang the first right, you'll see the lot.
Hazel Ave Pros: Easy free parking at Park & Ride dirt lot; longer hill with steady incline transitioning into varied incline; trails/bluffs around the lake to get in additional practice, beautiful views.
Hazel Ave Cons: Noise and air pollution from busy street; direct sun exposure.
Folsom – "Costco" Hill
Location
*Note: these directions take you to the Costco Lot where there is plenty of parking – to access the hill, just run on Cavitt Dr and take a right onto Iron Point Road.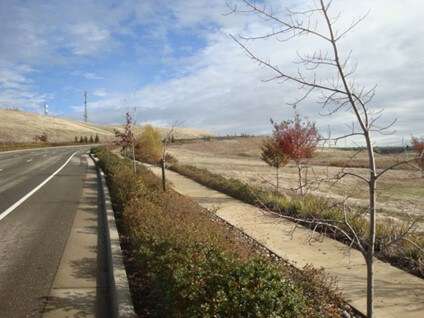 If you're a runner or cyclist in the Folsom area, you're most likely well-acquainted with the infamous "Costco" Hill. Actually, a segment of Iron Point Road in Folsom, this hill, from its start at the intersection of East Bidwell to its summit, is a mile long. The part which runners and walkers typically practice repeats on, however, begins at the intersection of Iron Point and Serpa Way, and is about a half mile in length. This hill is a glute, quad, and calf buster – the grade changes as you ascend, and you can get even more variation by switching up on which side of the road you ascend, Each side has a broad sidewalk, the left totally uninterrupted for the half mile stretch, the right encumbered just once by the entrance to an apartment complex.
Costco Hill Pros: long hill that you can do a variety of workouts on – just the first of many hills leading into the city of El Dorado Hills; easy parking at Costco; not too much noise.
Costco Hill Cons: parts of this hill are steep, so for those new to hill training, coming back down the hill can put stress on the joints if they do not have the strength in their quads/glutes to support downhill. running. As a result, it may not be a great beginner hill, although the option to jog up and walk down is always there!
Folsom – Folsom Lake Crossing
Location
Part of the scenic Johny Cash Loop trail, the hill at Folsom Lake Crossing is almost a full mile from start to finish. The grade varies but is never as steep as Costco Hill noted above. The views of Folsom Dam and the ravine below are gorgeous, although on windy days the cross/head winds on this stretch can be brutal! The bike path keeps you apart from the road, making this is a great, long, uninterrupted stretch of quality hill mileage. There is free parking at the intersection of Folsom-Auburn Rd and Folsom Lake Crossing – located right at the Gold Country Run + Sport Folsom Outlet Center! Come in and say hi before heading out on your run, or stop by after, and find some great deals on shoes, apparel, and more!
Folsom Lake Crossing Pros: very long hill, can do a variety of workouts; wide bike path with no stoplights; connects with lots of great trails around both Lake Natoma and Folsom Lake.
Folsom Lake Crossing Cons: if it's windy out, these conditions are amplified on this exposed stretch of road; noise pollution from busy street.
Rocklin – Stanford Ranch Rd.
Location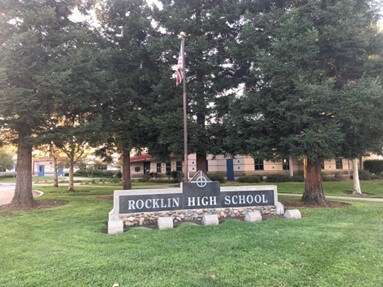 To access this hill, park at Rocklin High School and begin past the tennis courts. Heading southbound, the hill at Stanford Ranch Rd is about a quarter mile at a steady grade of about 8%. This grade is not overly steep – it's a good place to start if you are newer to hill training and still building your strength/running form (especially on the downhills which put a lot of stress on the joints). Both sides of the street have sidewalks.
Stanford Ranch Rd. Pros: lower, steady grade – a good beginner hill; sidewalks on both sides of the street, not too much car noise.
Stanford Ranch Rd. Cons: during school hours parking at the school lot isn't an option; not a very long hill.
Rocklin – Hillside Drive (near Johnson Springview Park)
Location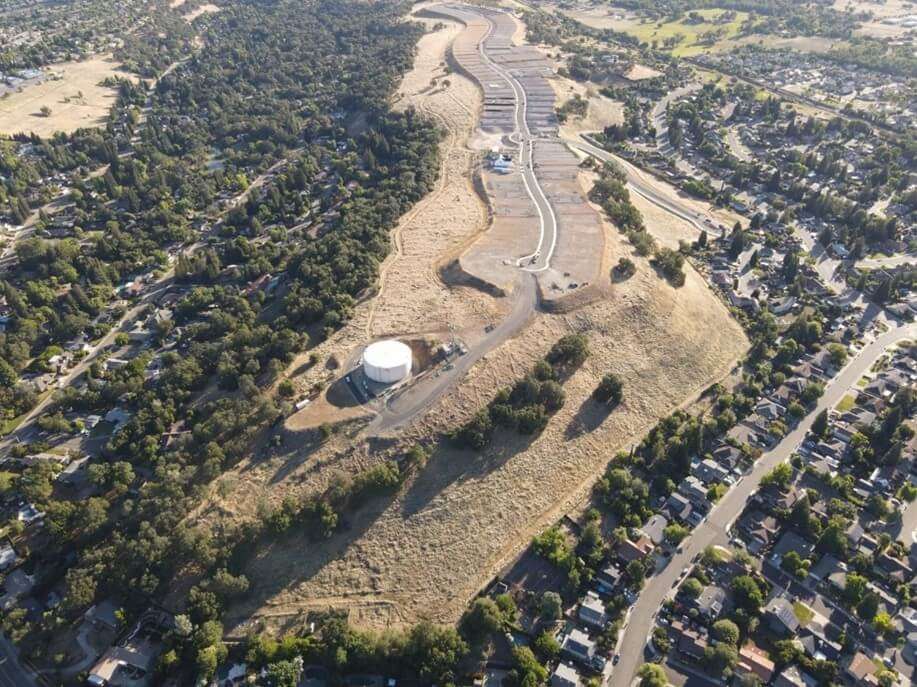 From Argonaut Ave, the hill at the aptly named Hillside Drive is also about a quarter mile, but at a steeper grade of 10%. It runs northbound toward the new Skyline Luxury Homes. There is only sidewalk on the west side of the road. Once you hit Skyline Drive at the top, you can hang a left and it flattens out. Perfect for some strides, or a recovery segment before heading back down and doing it all again!
Hillside Drive Pros: easy street parking; steady challenging grade.
Hillside Drive Cons: direct sun; no option to extend the hill.
Hopefully this list of locales is helpful to you in your training journey. If one thing's certain, it's that hills aren't easy. But as it goes with most things in life, the more difficult the ride, the more fondly we look back on the journey. Good luck out there and happy hill hunting!
Other Resources:
https://www.runnersworld.com/uk/training/a760159/everything-you-need-to-know-about-hill-training/
https://marathonhandbook.com/12-running-uphill-benefits/