Gold Country Run and Sports Training Group
In honor of the 40th running of the California International Marathon ("CIM"), Gold Country Run + Sport has gathered a list of tips and need to knows for anyone looking to complete CIM (or maybe even a marathon!) for the first time
Gold Country Run and Sport's Fall Marathon Training Group before starting CIM 2022!
Between packet pickup, planning the race "fit", getting to the start line on race morning, and preparing for any inclement weather, there are a whole lot of logistics that go into running CIM, or any marathon for that matter. We rounded up marathon vets Karyn Hoffman (coach and 23-time CIM finisher), Sarah Correa (2-time CIM finisher), Reed Breuer (3-time CIM finisher) Dan Lopez (8-time CIM finisher), and Javier Salazar (coach and 1-time CIM finisher) and asked them what they wished they'd known when they were heading out to the start for the first time.
We also received the most up to date information from the Sacramento Running Association, including a few key changes to this year's CIM expo, course, and finish.
We hope this list of tips and insider know-how helps your day run smoothly, so you can focus on running your best and having fun on the fastest course in the West!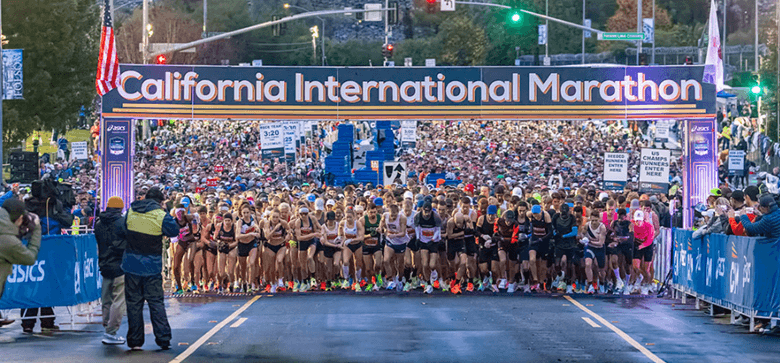 Tips for being prepared on race morning from 23-time CIM finisher and running coach, Karyn H:
"Failing to plan is planning to fail." Lay out your gear a day or two before the race and check it a few times.
Pin your bib on your clothing, so you don't forget it on race morning.
If you plan on wearing a hydration pack/bladder, make sure it's not leaking and that the straw works. You don't need a full bladder – fill less than half the ounces. Put in the drink of your choice that you've been training with. Water and Nuun will be the only hydration options on course at CIM.
Let your cheering squad know your bib number, so they can track your progress on the CIM website. This will help them time their arrival downtown, if they are coming to see you finish and/or pick you up from the finish festival.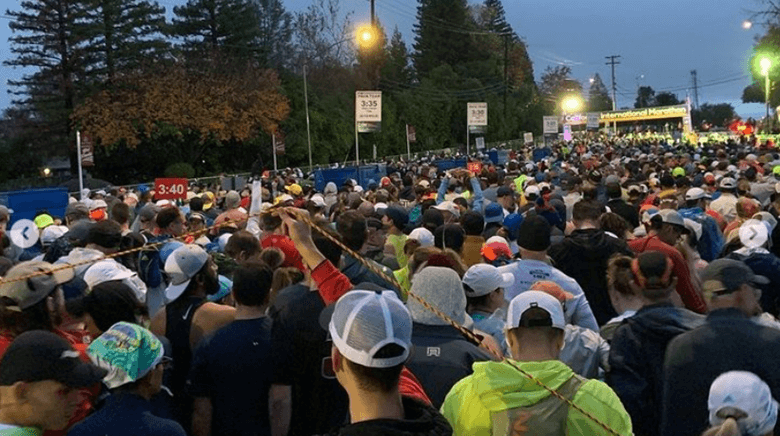 Tips for maneuvering on race morning from 2-time CIM finisher, Sarah C:
Take one of the location A-D shuttles! The shuttles that run from the Convention Center & Point West in Sacramento (Locations A & B), as well as the shuttles that pick up in Folsom (Locations C & D) do NOT run both directions. They take runners to the start and STAY there. So yes, this means if you take one of these buses, you get to stay warm and toasty on board, right up till the start of the race. And if you hop off to use the restroom, you can hop back on! If it's raining or just very cold, you will be really happy you chose to take the shuttle! 
There is NO gear check on race morning! If you want to check a bag to have brought to the finish area, you have to do this at the Expo one of the days before.
All plastic everything. If there is even a *hint* of rain in the forecast for race morning, wear a plastic poncho! It is not uncommon to see runners with plastic bags rubber banded over their shoes before the race starts. Do whatever it takes to keep yourself dry and warm until the race begins.
You can also wrap your phone in clear plastic wrap if you think it may rain. This will keep it dry the whole time.
Bring a throw-away jacket and sweatpants if it is very cold. There will be receptacles to shed layers in the starting chutes, so you can keep everything on as long as possible. Getting cold before the race starts is a recipe for tight muscles and beyond that, shivering burns calories and energy. This puts you at a disadvantage before the real work has even begun. A lot of people shed the sweats right before the race starts, but keep on their throwaway jacket for the first mile or two until they fully warm up. In this stretch, don't feel bad ditching your jacket on the side of the road. Volunteers are there to gather the discarded items, and it is all donated to local charities.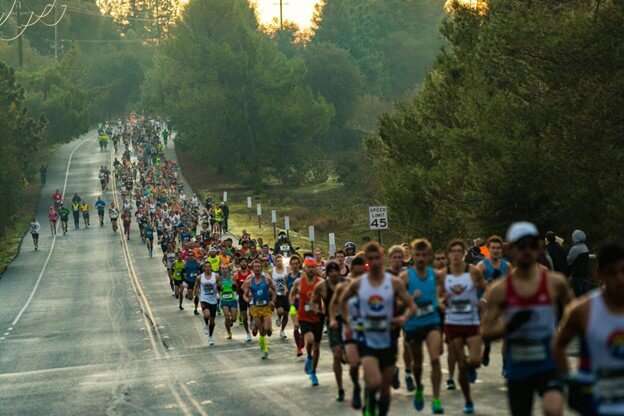 Tips on mentally preparing for the course from 3-time CIM finisher and 100-mile ultramarathoner, Reed B:
Don't expect the course to be an easy downhill the whole way. This is the biggest takeaway I hear from people after they run it for the first time, and what I always tell people who haven't run it before. It's true that the course is a net downhill and there are lots of fast downhill sections, but there are also lots of rolling hills, especially as you go through Fair Oaks and Arden.
Be mentally and physically prepared by training on hills and don't expect it to be "easy." If you live somewhere very flat like Davis or Sacramento, this will probably mean driving to some more hilly areas to get quality miles in.
At aid stations, try not to dart suddenly to the sides to grab hydration, you could cut off someone behind you and cause a collision. Instead, gradually move to the side and be aware of those around you. Pro tip: pinch the edges of the cup together making a narrower opening, this will make it easier to drink from! Also keep in mind that it could be slippery around the aid stations and cups or ice (depending on temperature) on the ground could create tripping hazards.
Tips for sticking to your pacing plan from several of our bloggers:
Often runners start out too fast. It is easy to get caught up in the excitement at the start line when adrenaline is high and proceed to go out faster than your goal pace. This is especially true for the CIM because the first mile is all downhill and the road is wide. Mind your watch and even if it feels "easy" in the beginning, try to stick to your goal pace and not overreach – mistakes made early on in marathons have a way of coming back to bite you, big time, in the later miles!
Do not fight the rolling hills, keeping an even effort throughout the rolling hills, even though that will likely mean slowing down, will allow for better pacing throughout the race and prevent overexertion.
Last hill is just over the American River, J Street Bridge. You can start to push because you only have 4 miles to go!
Tips for planning your support and recovery from coach Salazar:
Share your race plan with family and friends who may come to cheer you on. Their encouragement can be a significant motivator.
Pro tip: if possible have them cheer you at mile 6, and then anytime after mile 22 to give you the last bit of motivation to finish with a smile . Plus, you may need last minute tossing of any gear or getting any personal nutrition.
After the race, take the time to recover properly. Stretch, hydrate, and refuel with nutritious foods. Marathons cause more strain on the body than we realize, and it is recommended to take a full 1-2 weeks off running after a marathon to let your body recover. When you do resume running, resume at no more than 50% of your usual training load, and build back slowly. Remember: allowing your body to fully rest and recover, rather than rushing back into training, will ultimately lead to faster recovery and a safer return to running.
Listen to your body and give yourself time to heal if you experience any unusual soreness (acute soreness doesn't lessen after 48-72 hours) or injuries.
This next section contains important information provided by the SRA. Read carefully for changes to this year's shuttle locations, finish line organization, and a new Saturday Shake-Out run downtown!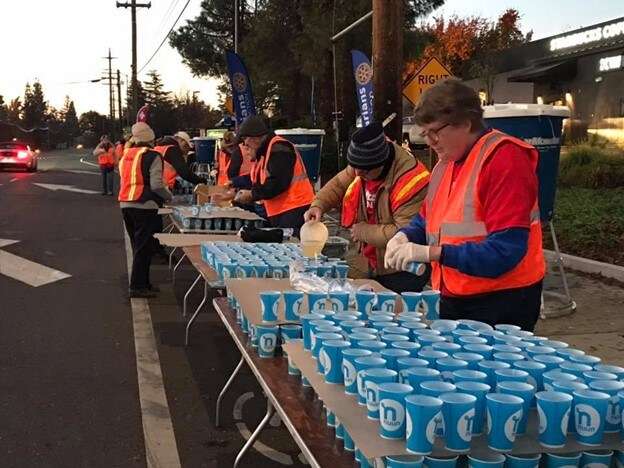 Transportation changes:
https://runsra.org/california-international-marathon/getting-to-the-start/
Please view the page above for recently uploaded all new information. Changes include Bus A moving to the convention center instead of the capitol and shuttle bus locations E & F.
Finish Line Chutes and Spectating:
There will be NO Finish A & B. Last year's "Finish A" will be for elite finishers only. The majority of runners will stay on the right where Finish Line B was located.
With all of the new construction happening, it was decided that the safest and most functional option will be to have all finishers in one chute.
For spectators, please note that the median of the Capitol Mall will now be open for spectators. Bleachers will be provided as well!
Finish Area Gear Check:
https://runsra.org/california-international-marathon/general-information/#gearcheck
Finish Area Gear Check Has moved to the expo – there is no start gear check.
New Saturday Shake-Out Run:
https://runsra.org/california-international-marathon/packet-pick-up/
Bare Performance Nutrition is the new shake-out sponsor and will be giving away 1,000 CIM x BPN branded shirts. See the info above for time and location of this fun new two mile shake-out run downtown! No RSVP needed, just show up!
Good luck to all those running this year's CIM and CIM relays! And special shout outs to the SRA, volunteers, officers, and runners' support systems that make this race an amazing Sacramento staple every year! Happy 40th Birthday CIM!
Finally don't forget to get load up on all your race gear by visiting Gold Country Run + Sport in El Dorado Hills or Rocklin or online at www.goldcountryrunandsport.com